Storage buildings provide you with an excellent option for protecting your possessions, business records, and other valuable items. But how do you decide between all of the different options that are available? We provide steel storage buildings according to your size requirements, with your choice of doors, windows, and other accessories. These customized options are created with the U.S. certified galvanized and galvalume steel. Read on to know more about the steel storage buildings!
Call Now To Get Started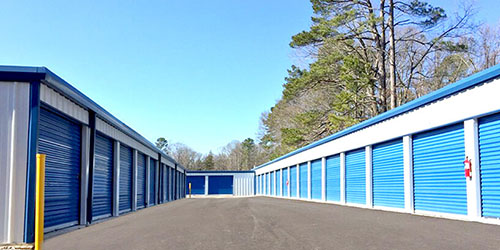 Prefab Storage Building Styles
There are several styles of storage buildings, depending on your needs. Whether you're investing in a mini-storage business, storage for your business, or very specific storage conditions, there's an option available for you.
Mini Storage Buildings
When you need to have multiple, separate storage areas for your business or want to rent out unused space, a
mini storage buildings
is a great option. This style has separate compartments with individual access for storage.
Self-Storage Buildings
For business or personal use, self-storage buildings provide you with the extra space you need without a lot of hassles. These are typically secured at one or two doors for the use of a single business or family.
Climate Controlled Storage
Do you need specific conditions for storing wood furniture, sensitive electronics, or fine musical instruments?
Climate controlled storage
buildings provide you with the best options.
Key Features of Storage Buildings
The first step in understanding the difference between storage buildings is understanding the differences in the features that are part of the structure. These features make a big difference in determining how well that storage building will meet your needs.
Metal Thickness & Corrosion Resistance

The thickness of the metal helps determine the overall strength and durability. Corrosion resistance is highest in aluminum structures, but steel will provide more overall strength.

Insulation

Do you need to heat or cool the storage building? If you do, you'll want to look at storage buildings that include insulation as part of the package or as an option.

Locks & Security

What level of security do you need to provide in your storage building? Locks can be anything from a simple hasp and padlock to more complex three-point latching systems.
Building Customizations
Doors
What size of items are you going to be bringing into and out of the storage building? If you're moving large items, an overhead door may be appropriate, but smaller items may require only a simple rolling or hinged door.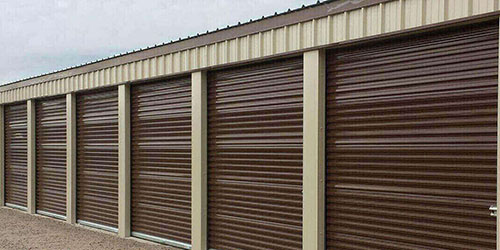 Colors
There are a wide range of colors available for the metal sheathing and trim on storage buildings. Don't forget the impact of solar radiance on the structure, choosing dark colors to heat the structure from sunlight and light colors to keep it cool.
Applications for Metal Storage Buildings
What situations call for metal storage buildings? You may be surprised at the reasons why people invest in storage buildings.

Small Offices
Why rent more expensive office space for boxes of old records when you can rent a much less expensive storage building for those same documents?

Logistics Business
When you need to keep specific records for regulatory purposes or need extra storage space on the fly, storage buildings meet your needs.

Rental Business
Whether people are moving, downsizing, or simply need to simplify their home life, storage building rental businesses are in demand.

Small Art Studio
When your creative talent abounds, do you have space to take advantage of the muse, or are you stuck trying to work in the house?

Vehicle Storage
If you have an off-season car for dealing with winter weather, why take up precious space in your garage when you could use a storage building?
Floor Plans of Storage Buildings
There are several different layouts that you can consider when looking at storage buildings. Here are a few options to help you determine which works best for your needs.
Single Slope Floor Plans (single-level)

When land is inexpensive, being able to have all of your storage on a single level may make the most sense financially.

Multi-level Floor Plans

Need to fit a lot of storage into a small space? A multi-level floor plan works well for these areas.

Climate Controlled Floor Plans

Requiring more utility infrastructure, climate-controlled floor plans offer a wide range of storage options for delicate items.
Storage Building Prices
There are many factors that can impact your storage building price. The quality of metal and materials used in the structure will be higher in a better building than in an inferior one. Shifting market prices impact the cost of those materials. Shipping distance can also impact the overall price.
Why Choose Storage Building Central?
With 20 years of experience as a national supplier of prefab storage buildings, our quick delivery and expertise help you get the best storage buildings for your home or business needs. We can help you find the right fit for your situation quickly and affordably. Please feel free to contact us today at +1 (844) 315-3151 with any questions, for more information or to get a quote on a durable metal storage building.