When you have sensitive items to store, a climate-controlled storage building maintains a relatively consistent temperature from 55-85°F, protecting the items you're storing from a wide range of issues that can arise. These buildings even offer a way to increase revenue for self-storage businesses. But how? Read on to discover the logistics of adding climate control storage to a new or existing mini-storage business.
Call Us Now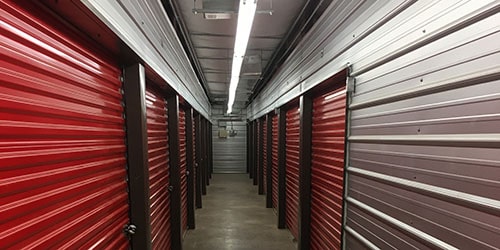 Why Do You Need Climate Controlled Storage?
Climate controlled storage helps protect your items from physical damage as well as damage from shifts in temperature and humidity. A few of the advantages of using a climate-controlled storage building include:
Protection from External Weather Conditions

Climate controlled storage has better protection from the elements, even during severe weather. To operate effectively, a climate-controlled storage building is sealed up better so that the climate control system doesn't have to run continuously.

Prevents Costly Damage to Your Belongings

Heirloom wood furniture and musical instruments that can warp, split and crack in extreme temperatures and humidity or electronics that can corrode and become unusable in damp conditions can be better protected in climate-controlled storage.

Feature Humidity Control

If you've ever had a wood door that sticks when it's humid, you've already noticed what humidity can do to wood. If you have wood furniture, books, musical instruments, leather clothing, or other items that you don't want to mold, humidity control delivers strong benefits.

Personal Comfort & Peace of Mind

Do you want to go through or load possessions during the heat or cold? When you use climate-controlled storage buildings, you not only gain significant peace of mind knowing that your items are stored safely, you'll be more comfortable when sorting through them later.

Protection from Dust and Debris

Electronics and fragile artwork have issues with dust, which can make traditional storage solutions a poor choice at best. Climate controlled storage eliminates dust and debris from the air in your storage space as it passes through the filtration system.

Have Great Air Quality

Do you have allergies or asthma? If you do, you know that spending a lot of time digging through your belongings in a dusty, humid storage facility can cause serious problems for your health. A climate-controlled storage facility provides you with exceptional air quality.
Difference Between Climate Controlled and Temperature Controlled Buildings
A climate-controlled storage building includes both regulation of temperature and humidity, which is important to many delicate items. Temperature-controlled facilities only moderate the temperature, which can leave your stored items susceptible to mold, mildew, warping, and other damage. Climate-controlled facilities include a dehumidifier, or in some drier parts of the country, a humidifier to help moderate humidity.
Building Customizations
Building Doors
Because it takes a lot of equipment and electricity to keep a climate-controlled storage building running efficiently, these structures are sealed up tight with good insulation. Doors are thick, often insulated, and are well sealed to prevent the elements and bad weather from entering the structure.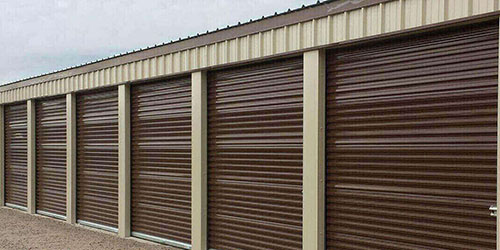 Choose Building Color Options
Climate controlled storage buildings are available in a wide range of color options for both the sheathing metal and the trim, allowing you to easily match your existing architecture. If you're in a part of the country with hot summers, light colors reflect radiant heat away from the building, while in cold parts of the country, dark colors reduce the heating bill in the winter.
What Items You are Storing?
There are many items that are most safely stored in climate-controlled storage buildings.

Records & Documents
To prevent yellowing and damage to your important records and documents, storage at 35% relative humidity or less in temperatures between 35-75°F is ideal.

Electronics
Electronics are sensitive to dust and humidity, which can cause them to prematurely fail. Storage in a climate-controlled building protects these valuable assets.

Media Discs
Did you know that your CDs, DVDs, and Blu-ray discs can benefit from climate-controlled storage? They store best out of direct light at temperatures between 65-70°F and 45-50% relative humidity.

Delicate or Antique Fabrics
In humid environments, delicate and antique fabrics can mold and mildew, causing stains that are impossible to remove. Storage from 35-75°F with 55% or lower relative humidity protects these delicate items.

Leather and Wood Furniture
Because this type of material has some amount of organic material, it's a prime breeding ground for mold and mildew. Climate controlled storage virtually eliminates this risk.

Musical Instruments
Fine musical instruments are very sensitive to changes in temperature and humidity due to their wood and organic components. Climate controlled storage keeps them sounding great.
Buy the Best Climate-Controlled Storage Buildings from Storage Building Central
With two decades of experience in the industry, Storage Building Central's reputation as a nationwide supplier of high-quality storage building, quick delivery, and expertise is second to none, which is why so many customers turn to us. Please feel free to contact us today at +1(844)315-3151 for more details.
Sample Floor System Layout
Storage Building Central can do single level and multi-level climate controlled storage buildings. For a full customized quote, contact our team for more information +1 (800) 818-2245